Just outside Maggie Valley and Waynesville are nine unique, authentic hand-hewn log cabins vacation rentals. Dating back 150 to 200 years, they have been carefully restored and tastefully furnished with antiques and modern conveniences. In 2020 Grassy Fork a 4Br hand-hewn cabin was added and in 2021 the Boyd farmhouse built in 1905 was remodeled and turned into a charming 5 br rental The Home Place. New for 2023 is 5 bed Willa Branch.
Our cabins are nestled in a 175-acre cove overlooking the Smoky Mountains with three stocked fishing ponds, nature and hiking trails, places for jogging, strolling and biking, lovely landscaped grounds, a mountain stocked trout stream called Jonathan Creek for fishing and tubing and our Fraser Fir Christmas tree farm. A bird watching, flower gardener, and nature lovers paradise. The fishing ponds are stocked with rainbow trout, bluegill, bass and catfish and the fishing is free with no license required. There are 4 miles of marked hiking trails…
The Boyd Farm has been continuously in the Boyd family for over 100 years, and continues to be a working farm. The grandparents of Dan Boyd, David J. Boyd and his wife Kate Moody Boyd were large landowners and a prosperous farming family. Dan had a vision to buy his grandparents land and preserve antique log cabins. He started growing Fraser Fir Christmas trees in the fields where the cattle had roamed in 1983, and rented the first cabin in 1989. Still active, Dan and betsy are planning to add another cabin in 2023. And the work has begun! Hoping to be ready to rent in the fall.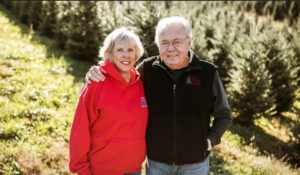 We are proud of our mountain and we are often asked to tell our story so folks can learn more about us and what we have created:
The Maggie Valley/Waynesville Cabins and Vacation Rentals are spaced around the property to give you privacy and beautiful views. Open year round… this will be a vacation to be remembered in every season blending mountain authenticity in a lovely peaceful setting. We are centrally located near Maggie Valley in historic Haywood County, North Carolina just minutes from the Blue Ridge Parkway and Cataloochee Valley in the Great Smoky Mountains National Park. Also close to the Cherokee Indian Reservation 19 miles to the west and Asheville with the Biltmore Estate 30 miles to the east.